Home
/
hot-sale product
/
Doona Infant Car Seat & Latch Base - Car Seat to Stroller in Seconds - Greyhound, US Version
Doona Infant Car Seat & Latch Base - Car Seat to Stroller in Seconds - Greyhound, US Version
| | |
| --- | --- |
| Package Dimensions | ‎28.1 x 20.7 x 18.3 inches |
| Item model number | ‎SP101-10-030-003 |
| Is Discontinued By Manufacturer | ‎No |
| Minimum weight recommendation | ‎4 Pounds |
| Maximum weight recommendation | ‎7 Pounds |
| Maximum height recommendation | ‎32 Inches |
| Material Type | ‎Bamboo |
| Number Of Items | ‎1 |
| Batteries required | ‎No |
| Orientation | ‎Rear Facing |
| Rear-facing minimum child weight | ‎4 Pounds |
| Harness type | ‎5-Point |
| Item Weight | ‎8.8 ounces |
Doona Car Seat & Stroller
Doona's infant car seat and stroller combo was designed to provide parents a safe and practical solution for their baby, both in and outside of the car. It is the world's first infant car seat and stroller in one, providing a complete and fully integrated travel system, allowing you to move from car seat to stroller in seconds.
The latest collection makes a bold and on-trend statement with six vivid colors, an updated all-black inner seat cover and a sleek charcoal aluminium frame. This collection answers the needs of fashion-conscious families.
What's Included:
• Doona Infant Car Seat & Stroller • Doona LATCH Base • Doona Infant Insert • Doona Head Support • Doona Vehicle Seat Protector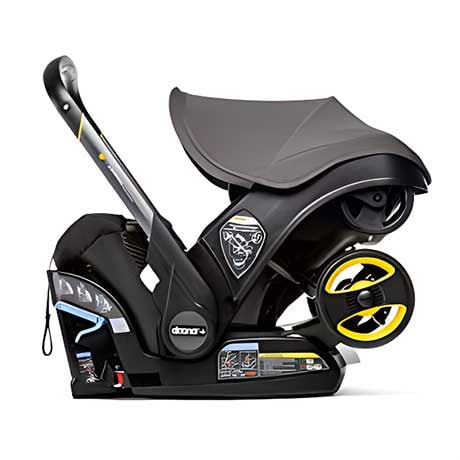 From Car Seat to Stroller in Seconds
In one simple motion, transform your Doona Stroller into a car seat in seconds. Our products go through strict internal and external tests and examinations to ensure their safety. All mandatory certification is conducted, to assure the highest levels of safety. Doona, with its unique hybrid functionality, has been tested to meet the strictest US standards for Car-Seats, Strollers and Hand-Held Carriers.
Baby-Safe Materials
All materials used in our products are free of hazardous chemicals and are carefully tested and approved under the strictest European standards and the REACH regulation, including SVHC (Substances of Very High Concern). The textiles are tested for their durability and quality to assure the safety and continuous use of the products. In addition, they are all breathable, removable, and washable textiles.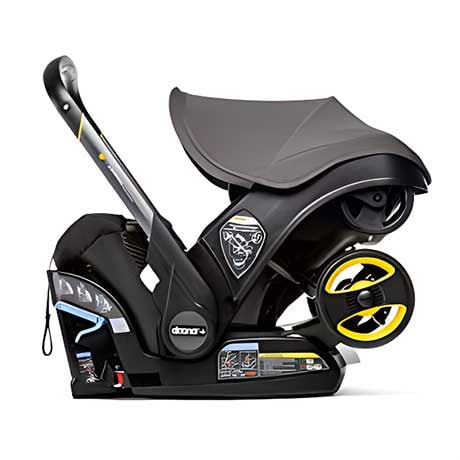 Side Impact Protection
The unique double-wall structure of Doona enables the folding of the wheels into the body and offers a significant safety benefit. The two layers of durable, impact-absorbing plastic, along with additional layers of EPS, foam, and textiles provide enhanced side-impact protection.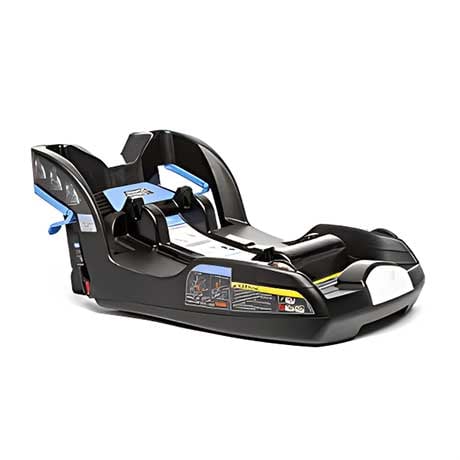 Anti-Rebound Protection
Unlike typical car seats, Doona's unique structure enables positioning the handle against the back of the car seat, thus providing the baby with exceptional Anti-Rebound protection. In case of collision, the Anti-Rebound handle absorbs the impact and prevents the Doona from rotating quickly towards the back of the seat, thus dramatically reducing rebound injuries.
Product Description
Doona Infant Car Seat - From Car Seat to Stroller in seconds. This next-generation car seat is the world's first complete and fully integrated travel system, allowing you to move from car seat to stroller in seconds. The sleek and stylish design allows you to navigate the streets at ease, without disturbing your sleeping child when hopping in a car, traveling by bus, or walking up the stairs. The revolutionary car seat and stroller provides a safe and practical solution for parents on the go. Doona is the only car seat to have been tested and certified as an infant car seat, a stroller, and an infant carrier providing overarching safety for your child in all circumstances. With its unique 3-layer side impact protection, anti-rebound bar crash technology, superior 5-point safety harness, and ergonomic infant insert, Doona is one of the safest car seats available today. This Baby Stroller and Car Seat Combo has integrated wheels that can easily flip from being a car seat or even an on-the-ground rocker into a stylish push travel system. The handle can be used to carry the infant carrier and also can be extended when on the floor to enable easy rocking. Doona's convertible car seat has been designed, alongside medical and engineering experts, to ensure that the baby's body is properly supported in the correct ergonomic position. The Doona infant insert's near-flat ergonomic design boosts your newborn's upper and lower back and ensures that your baby's neck and back are ergonomically aligned.
About this item
From Car Seat to Stroller in Seconds - 5-point harness, adjustable handlebar - also acts as an anti-rebound bar inside the car, 3 layer side impact protection, highest safety & quality standards, TUV and FAA aircraft approved for travel, 2 years manufacturer's warranty.

Made of Baby Safe Materials & Breathable Textiles - Removable and washable stretch material canopy and shoulder pads with contrasting dark grey bamboo infant insert and head support.

Everything you need to get Started - This set includes the Doona infant car seat, Doona bamboo infant insert, Doona bamboo head support, Doona vehicle seat protector, and our Doona base.

Important Sizing and Usage Information - Suitable for babies between 4 lbs. to 35 lbs. and max. 32 inches in height. The Doona Infant Car Seat is rear-facing only.

Designed For Your Lifestyle - Doona is compact and lightweight: Folded - 23.6 x 17.3 x 26 inches, Unfolded - 39 x 17.3 x 32.2 inches, The car seat weighs only 16.5 lbs. The latch base weighs 10.3 lbs.